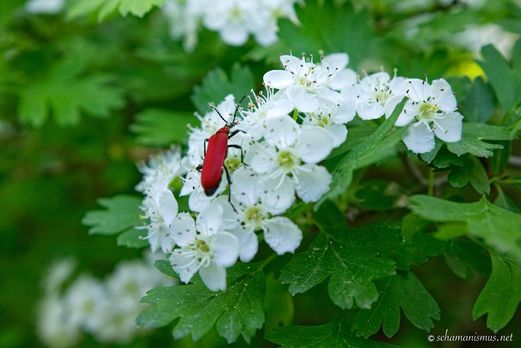 Hawthorn - Weissdorn / Feuerroter Scharlachkäfer
Hallowed Lady of the Hawthorn,
Godddess of the greenwood groves,
we call upon Thee in the season of Thy Sensuality,
as Thy blossom opens to the amorous advances of our Lord, Thy Lover.
In Thy union is the fertility of Spring,
and the beckoning whisper of young desire.
Touch us with the breath of Thy passion,
that we might seek for the ectasy of life!
Inflame us with the fever of Thine inmost longings
that we not be satisfied until our oneness
with the God is consummated!
Capture us with the fragrances of Thine allurement,
that we may be overwhelmed with an obsession for Thy presence!
Bright Maiden of May, be here among us as we celebrate
the Beltane blessings of Thy bridal-bed!
Blessed Be!
Horned God of power and play,
we hear the music of Thy melodious pipes
enchanting our ears upon the evening wind!
Beneath the fullness of the May-night Moon
Thy silhouette plays hide-and-seek
among the shadows of silver-tipped trees;
Thy hooves striking sparks like shooting stars
as they step in spritely patterns
to the rhythm of the Ways of the Wild.
Holy Pan of the shepherds' shrine,
Goat-footed God, Faunus of the forest glades,
we beseech Thee to be here among us
as we as we revel in Beltane abandon
beneath the swirling streamers of Thy phallic staff,
dancing by the light of the balefire's glow!
Sovereign Satyr Lord, be pleased within this Circle to remain,
as we celebrate Spring and the beginning of Thy reign!
Blessed Be!
by The Crafted Cup by Shadwynn
with love
Sonia Emilia Rainbow